I am so excited to be part of this tour! When Laura, the talented lady behind
Craftstorming
and
titchythreads
sewing patterns, asked me to try out her latest pattern for skinny jeans I was so in. My girls always need pants, and honestly I never take the time to sew them any, other then leggings :)
It also did not hurt that there are some pretty talented ladies listed on tour as well...look at this lineup!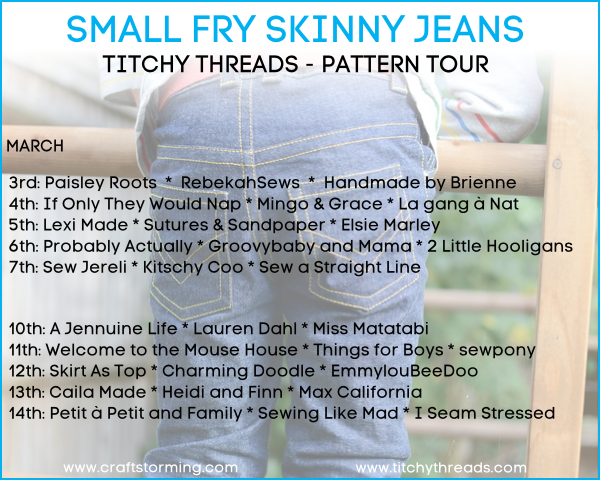 So I went, full force into this pattern and Oh my! I MADE JEANS!! Like REAL JEANS!....so excited!
I got all excited when I started, sat down with my pattern printed, coffee in hand, and a full two hour nap time to knock these out....I was wrong....( it ended up taking 3 naps). There are a lot of pieces to cut, and to keep track off, but once you get going they go together beautifully. They look so great BECAUSE of all the little pieces, and all the little details.
I made this first pair from a med weight dark wash stretch denim. I sewed them as is, full zip. I love them! especially the pockets ( I just sewed on grosgrain ribbons in various pinks)
Once I was done, I wanted to make more...they do become slightly addicting...maybe that was just me. I made both my girls a pair from a really soft stretch sateen floral, perfect for girly girls like mine.
These ones went much faster, about half the time
They fit great, they are comfortable and she loves them, which is the best part of all
My youngest I made the false fly and changed the waistband to entirely elastic, just to make it easier to dress my squirmy toddler
Paired with a soft flowy chiffon tee (self drafted) - it`s the perfect spring outfit for this never ending winter :)
Now go get yourself a
copy
and make some Jeans!! You can do it!
AND until March 15th Laura has generously offered a discount, you can get 20% off with the code TOUR20 in
her shop
.
yay - thanks Laura
Christine